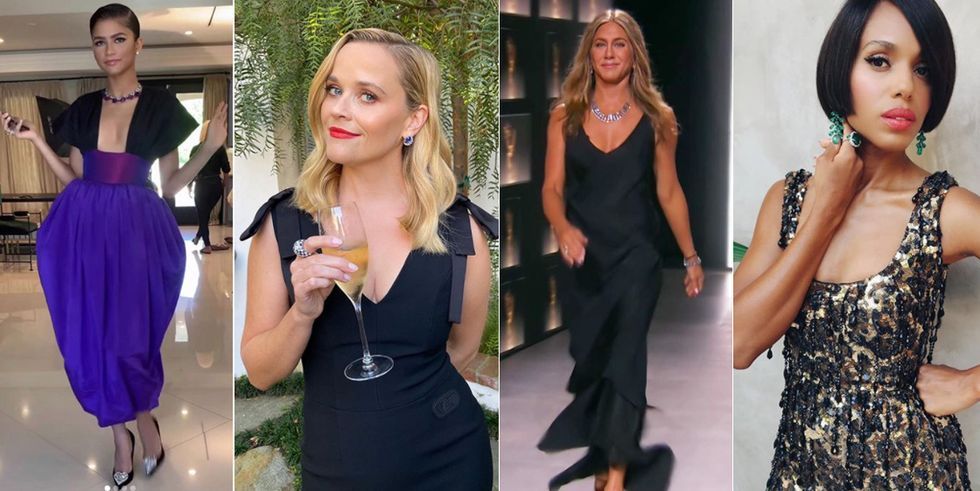 Si 2020 hubiera sido un año normal hoy estaríamos hablando sin parar de la alfombra roja que habría tenido lugar con motivo de la entrega de los Premios Emmys 2020. Pero por desgracia ya sabemos todos que 2020 está siendo de todo menos normal y que la crisis sanitaria mundial por el Covid-19 lo ha puesto todo patas arriba. Las galas de premios como los MTV Video Music Awards 2020 o los festivales de cine como el de Venecia o San Sebastián se celebran entre estrictas medidas de seguridad con menos estrellas y con mascarillas por todas partes. En el caso de los Emmys, la ceremonia ha sido virtual por mayor seguridad.
Pero aunque sea diferente (muy diferente), las 'celebrities' han querido dejarnos sus looks para esta cita a través de Instagram. Tenemos looks de lo más espectaculares como los vestidos de Reese Witherspoon, Laverne Cox o Zendaya que incluso se cambió a lo largo de la noche y nos dejó dos estilismos. Jennifer Aniston y su amiga del alma Courteney Cox optaron por mostrarnos sus 'outfits' de andar por casa y poner así un toque de humor a todo esto. Sea como sea, hemos tenido Premios Emmys 2020 y aunque sea de una mantera totalmente distinta a la habitual como lo es ahora todo en estos difíciles momentos, tenemos que poner al mal tiempo buena cara (con mascarilla) y disfrutar de estos vestidos tan diversos que nos han dejado la famosas.
Emmys prep… in my other mask 😷🥂 ⠀ ⠀ Congratulations to the nominees and all of the amazing performances we've seen this year 👏🏼👏🏼🥳❤️
Una publicación compartida deJennifer Aniston (@jenniferaniston) el
Así se preparaba Jennifer Aniston para la gran cita. Tal y como ella dice, "con su otra mascarilla".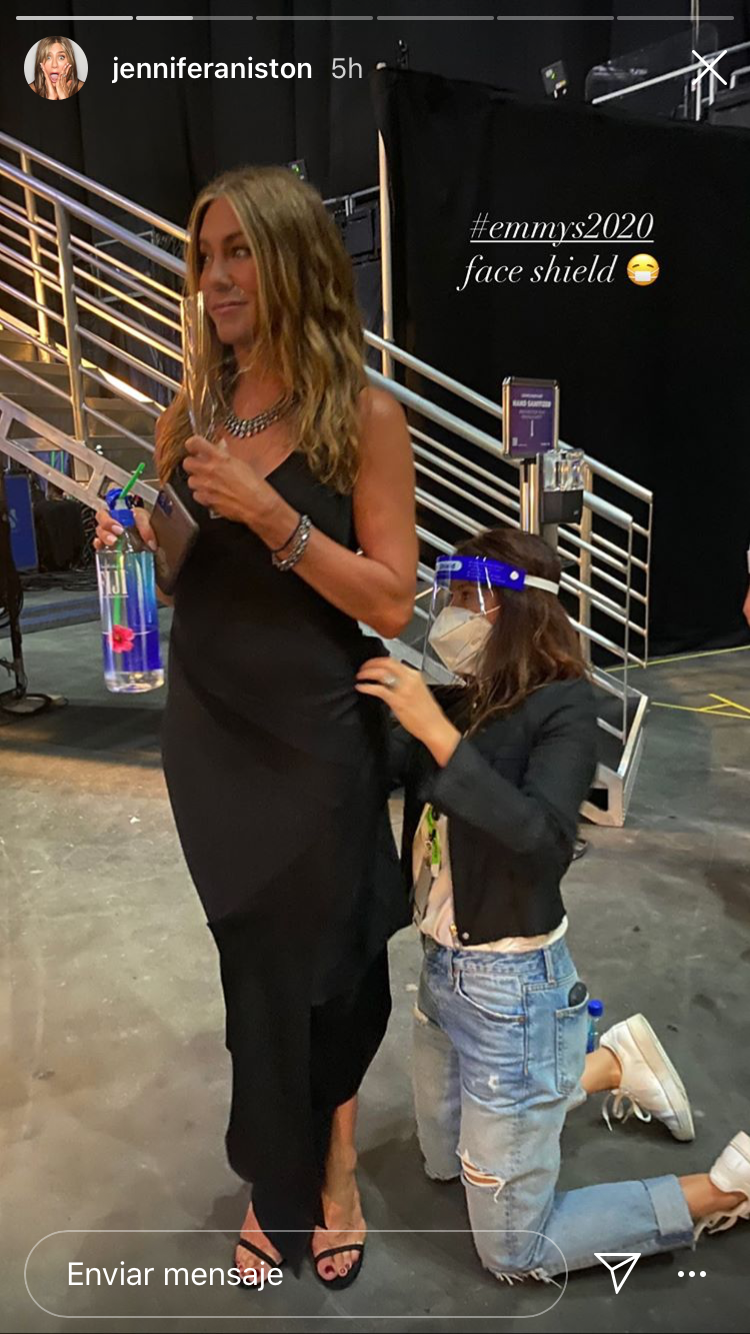 Después, durante una intervención que tuvo durante la gala, pudimos verla con este elegante vestido negro de tirantes.
Shortest #Emmys commute yet! Bringing the festivities to my lawn and excited to celebrate the incredible cast and crews of @themorningshow, @biglittlelies and @littlefireshulu tonight! ✨ @hellosunshine @televisionacad
Una publicación compartida deReese Witherspoon (@reesewitherspoon) el
De negro también veíamos a Reese Witherspoon de lo más elegante y disfrutando de una copa.
Zendaya's First Look for Emmy 2020 🤩
Una publicación compartida destyle & shows 🤍 (@zstylearea) el
No uno, sino dos looks nos dejó Zendaya durante la noche. Este es de Christopher John Rogers.
Best dressed 🤩
Una publicación compartida destyle & shows 🤍 (@zstylearea) el
Su segundo vestido era este de lunares en blanco y negro de Giorgio Armani.
Little Flowers Everywhere🌷🌼🌸 #Emmys!!!!!
Una publicación compartida deKerry Washington (@kerrywashington) el
Otra que también lo ha dado todo con dos estilismos ha sido Kerry Washington. Este primero de flores lo firma Oscar de la Renta.
Haven't dressed up in a while so had to make the most of it. Look ✌🏾#Emmys2020
Una publicación compartida deKerry Washington (@kerrywashington) el
Y después ha dado paso a las lentejuelas de Dolce & Gabbana.
Neo Black Trans Feminist Barbie Tings #Emmys#TransIsBeautifulPhoto @sequoiaemmanuelle
Una publicación compartida delaverne cox (@lavernecox) el
También con doble look vimos a Laverne Cox. Primero de rosa
To present at the #Emmys tonight I woreJumpsuit custom @kimkassascouture, jewelry @misaharajewelry,… Styled by @christinajpacelliHair: @kiyahwright1Makep: @beautybytayriveraPhoto: @sequoiaemmanuelle Photo assistant: @mariaqphotography… #TransIsBeautiful
Una publicación compartida delaverne cox (@lavernecox) el
Y después de negro vestida por Kim Kassas Couture.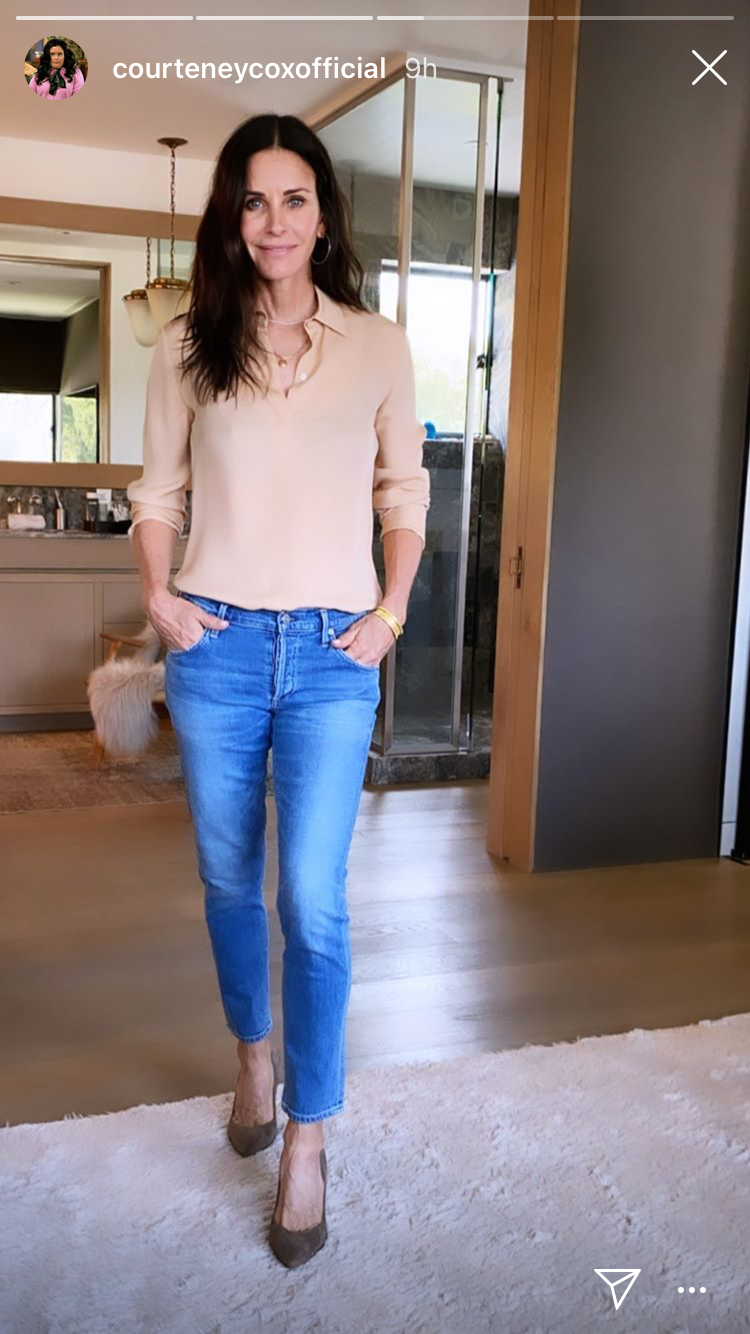 Courteney Cox nos daba a elegir entre dos looks para ver la gala desde su casa. Este es el primero.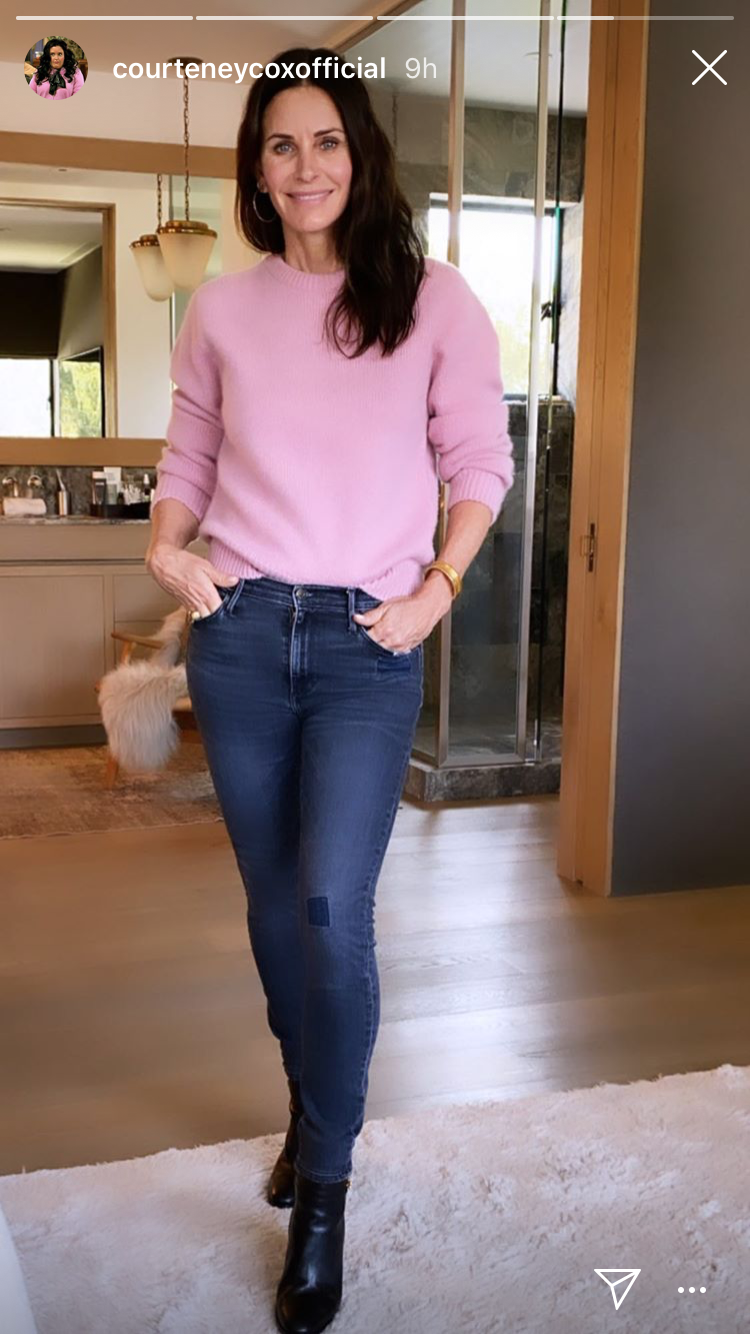 Y este el segundo, aunque siguiendo una línea muy parecida.
Lady In The Blue Dress
Una publicación compartida deRegina King (@iamreginaking) el
Regina King jugó con los volúmenes con este diseño azul de Schiaparelli Couture by Daniel Roseberry.
How fun to get dressed up! Can't say I miss the frenetic energy of the red carpet or wearing high heels, but boy do I miss a pretty dress!! #blackish #emmys Dress: @alexandrevauthier Shoes: @jimmychoo Jewels: vintage @tiffanyandco Stylist: @karlawelchstylist Makeup: @muatraceylevy Hair: moi using @patternbeauty
Una publicación compartida deTracee Ellis Ross (@traceeellisross) el
Tracee Ellis Ross se vistió de oro con este llamativo diseño de Alexandre Vauthier.
#ShiraHaas from #Netflix's #Unorthodox wore a #Chanel Spring 2020 Couture dress at the #2020Emmys, styled by @sivanhimy. Thoughts? 📸 Yaniv Erdy #instafashion #instastyle #style #fashion #emmys #emmyawards #2020emmys #2020emmyawards #emmy #fashionbombdailyposted by @wennymilzfort
Una publicación compartida deFashion Bomb Daily (@fashionbombdaily) el
Shira Haas, la protagonista de la exitosa serie 'Unorthodox', apostó por un look floral de Chanel.
No red carpet but live from my white couch!Hair: @davestanwell makeup: @missvalnoble dress: @tadashishoji necklace: @sophieratner_jewelry earrings @vraiofficial
Una publicación compartida deOctavia Spencer (@octaviaspencer) el
Octavia Spencer también disfrutó de la gala desde casa vestida por Tadashi Shoji.
Vía: ELLE ES
Fuente: Leer Artículo Completo